Gap, intern, or study abroad in
Ireland
Enrich the time between high school and college in a gap program, differentiate your resume with an internship, or get class credit while you study abroad. Along the way, you'll attend prestigious universities, enjoy career-accelerating experiences, and immerse yourself in Ireland's lifestyle and culture.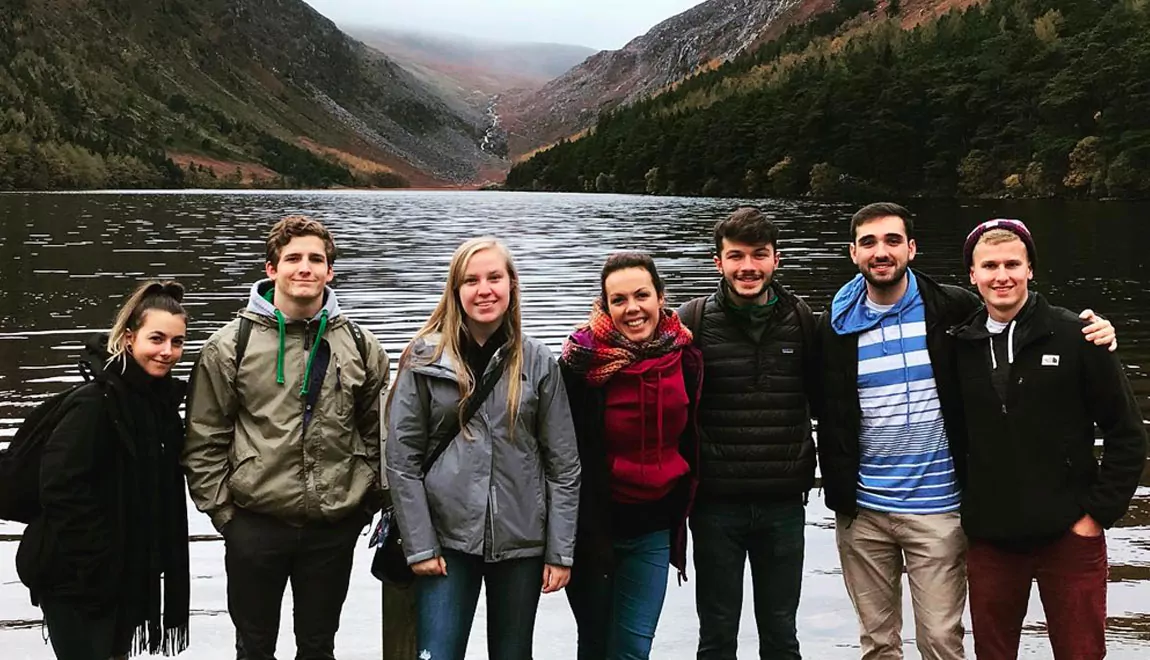 Students on Excursion in Ireland
Destination Overview
It is said that Ireland, once visited, is never forgotten. The Irish landscape has a mythic resonance, and the country's history is almost tangible. In terms of Ireland's landscape, the gentle rainfall, called "soft weather" by the locals, really does create 40 shades of green and quite a few rainbows as well. Ancient moss-covered ring forts crouch in lush valleys, while stone-strewn monastic ruins and lone castle turrets brave the wind on nearby hilltops. Many come to Ireland with high expectations of its romantic scenery, a blend of the raw and rugged with mist-covered verdancy, and seldom return home disillusioned.
Meet Some of Our European Resident Directors
Cities in Ireland with API Programs:
  Dublin
Galway
  Limerick
Why Dublin
Capital of Ireland and seat of Irish parliament

Top tier universities
Charming Irish hospitality

Famous pubs and restaurants

Impressive architecture, abundant green spaces, and the lovely River Liffey

Strong artistic, literary, and musical traditions

Vibrant nightlife and very active student population

Often described as a city that feels like a large village
Why Galway
Seat of Gaelic language and heritage

Cultural capital of Ireland, and the 2020 European Capital of Culture

Charming coastal city of cobblestoned streets and stunning water views

Known for its festivals, exceptional food and its fantastic art scene

Great live music, cozy pubs and active student population

World-renowned theaters

The University of Galway ranks in the top 1% of universities worldwide

Top destination for Irish water sports and hiking
Why Limerick
3rd largest city in the Republic of Ireland, and one of the oldest in the country

Over 400 castles in County Limerick

Attracts renowned street artists from across the world who adorn the city with vibrant and colorful murals and moving messages

King's Island, Newtown Perry, St. Mary's Cathedral, and excellent shopping at the famous Milk Market

Fabulous hiking/biking trails

Ideal for music students and music lovers: the University of Limerick houses the Irish World Music Centre, the renowned Irish Chamber Orchestra and the Irish World Academy of Music and Dance

Known as "Sports City", Limerick offers excellent sports facilities and plenty of opportunities to participate in and watch Irish sporting events

Diverse array of courses across a wide spectrum of academic disciplines available, and the opportunity to live alongside Irish and other international students for a truly cross cultural experience
Diversity, Equity and Inclusion
API is committed to providing enriching international experiences to its participants. We believe in the importance of promoting acceptance, dignity, and respect among people of all backgrounds. API demonstrates its commitment to inclusiveness by providing affordable and accessible programs, offering individualized support, and conducting ongoing diversity education and training for all API staff. No matter who you are or where you come from, API will support you during your journey abroad.
Read more about Europe on our blog:
Are you eager to embark on a study abroad adventure but want to avoid the complexities of securing a student visa? When we say "no-visa-required," we mean programs that last under 90 days that...
read more
"I absolutely recommend API, Ireland, and Galway! The memories and friendships I gained from my trip abroad through API will surely last a lifetime and I could not be more grateful."
Michelle M.
API Galway student
Find your program in
Ireland